Embrace is a holistic, naturally-oriented, faith-based walk through the entire childbearing year, starting with orienting your mind/heart for the journey, then working through pregnancy, birth, and postpartum.
No other online childbirth course that I know of covers as much ground as this one does. Every stage of the journey is so important, and I want you to milk it for all its worth. Though you can buy each section of this course a la cart, THIS bundle of all of them together is the ideal, as each section builds on the one before.
This course is perfect for you if you want to have a joyful, transformative experience from conception through 12 weeks postpartum and set strong, healthy foundations for you AND your baby that will set you up for a lifetime of love and connection.
This course is perfect for you if you want to invite Jesus into your journey, and to also engage your husband in the process more deeply. It's perfect for you if you are ready to not merely endure the process of becoming a mother but to grow and thrive throughout it.
This course is perfect for you if you're enrolling while you're still pregnant (preferably 1st or 2nd trimester, but you can totally "cram" in the 3rd trimester if you need to), so that you have time to digest and implement all the information and practices you'll glean from it.
This course is perfect for you if you love the idea of flexible "class times" in the comfort of your own home (I picture you curled up on the sofa in your comfiest pants, holding a bowl of ice cream and your baby wriggling around in your belly as you watch/listen/read).
This course is prefect for you if you like the idea of having a smart, humble, approachable older sister (who happens to be a birth professional, too) to take you under her wing and gently guide you through the it all.
Jump right in. As soon as you enroll, you'll have instant access to ALL 5 phases of this incredible course.
Your Instructor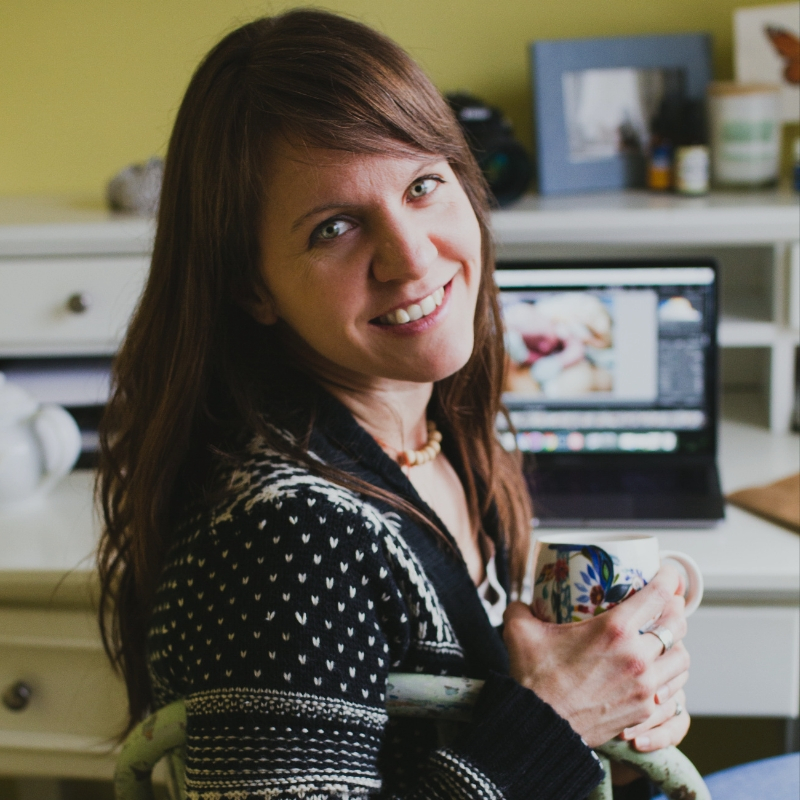 I'm Brooke! I'm married to Tim, a leader in the 24-7 Prayer network, as well as a mama to 5 remarkable home-born babies (all under the age of 10), a birth photographer and holistic birth attendant, former midwifery apprentice, Etsy shop owner, holistic health coach, and master's level counselor.
Besides all the birth-y things, I love wandering in the woods, Thai food, historical fiction, collagen powder mochas made at home, unschooling with my kids, Lake Michigan, the ennegram, and wildflowers.
I'm deeply passionate about reclaiming birth as a natural, joyful rite of passage for followers of Jesus.
I'm so glad you're here.
Frequently Asked Questions
When does the course start and finish?
The second you enroll you have instant access to all the course content. After that, it's up to YOU when you start and finish. I recommend working through Phases 1 and 2 right away, finishing Phase 3 and 4 by 34 weeks of pregnancy, and Phase 5 by week 38 of your pregnancy.
How long do I have access to the course?
How does lifetime access sound? After enrolling, you have unlimited access to this course for as long as you like - across any and all devices you own. As updates are made or content added to the course, you'll have access to all of those things, too. So you'll always have the latest and greatest iteration of Embrace.
What if I am unhappy with the course?
I hope this doesn't happen, and I doubt that it will! But, if you are unsatisfied with your purchase, contact us in the first 30 days and we will give you a full refund.
I don't have the full amount available right now. What do I do?
Payment plans are available and are spread across 4 months.
If I'm not planning a natural birth, will this still be good for me?
Though this course unashamedly advocates for natural/undisturbed birth, there are many pieces of it that are still useful to a mama who plans to opt for medical pain relief, such as the pregnancy and postpartum sections, emotional/spiritual practices, and positive birth stories (to name a few). However, expect to have your paradigms and perspectives challenged and possibly changed.
In what format is the course material delivered?
This course is a delightful scrapbook composed of many types of materials. The bulk of the teaching sessions are slide shows with voice over, but you'll also find some video (as in, where you can also see me and whomever I'm speaking with), downloadable PDFs (workbooks and forms and guides), links to external resources, and lots of beautiful photography throughout.
Is there a live component to this course?
YES! You'll be invited to the closed FB group that exists only for students in this course. I myself moderate and participate in the group, answering questions and sometimes doing spontaneous FB Lives.
Can I use this in a small group or at my church?
The short answer is YES. In fact, I've had some beta testers use it in this way and the feedback has been great. They talk about the joy of gathering with cups of tea and their workbooks and going through the content together. I'll soon be launching a Small Group Pack, which will come at a slightly higher rate but will also have bundled with it some facilitator resources and tips for forming and leading a group through the material. It's honor system; I ask that if you intend to use the course content for multiple uses or in a small group that you purchase the version that is priced accordingly.